Akkim receives award at 11th CSR Summit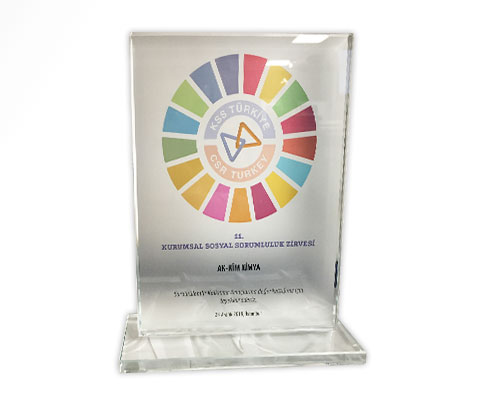 The 11th edition of the Corporate Social Responsibility (CSR) Summit, which brings together stakeholders from different sectors on social responsibility solutions that contribute to society and creates ground for new cooperation opportunities, was held in Istanbul at the Kadir Has University Cibali Campus.
The Summit, held every year since 2009 by the Corporate Social Responsibility Association of Turkey, saw attendance from the elite names of the business world, managers of companies working in the field of CSR, as well as experts, academics and representatives of international institutions. The Sustainable Development Goals (SDG) Awards were distributed at the 11th CSR Summit, where valuable keynotes and presentations full of experience and perspective were made throughout the day. Ath the Summit, held by the Corporate Social Responsibility Association of Turkey, Akkim Kimya was represented by Corporate Communications Manager Tuğçe Arslanoğlu, who is also a board member at the association. Arslanoğlu, who presented the winning project of the summit with their award, also received an award on behalf of Akkim.
The Summit saw the launch of the Sustainable Development Goals Stakeholder Platform in Turkey. The platform, which was launched for the purpose of providing local solutions to global problems through the cooperation between the Corporate Social Responsibility Association of Turkey and Kadir Has University International Relations and European Studies Center, is part of the CSR Europe Sustainable Job Exchange – European Business Platform for UN Sustainable Development Goals